Details
Discover the perfect fusion of aesthetics, functionality, and well-being with Sugi; the ceramic Kintsugi-Style Aroma Diffuser. Crafted from natural ceramic and adorned with hand-applied gold accents, each piece is a unique masterpiece. Its modern design makes it a stunning statement piece in your home.
The Sugi diffuser offers multiple mist settings, delivering fragrance for up to 10 hours. It doubles as a mini-humidifier, enhancing air quality. Using cold mist diffusion, it preserves the integrity of essential oils, ensuring you enjoy their full benefits. 
Embrace the art of Japanese living, unwind, and elevate your space with tranquillity.
Key features
Suitable for use with any essential or fragrance oils. Made by Zen oils are recommended 
Hand-applied gold colour design inspired by traditional Japanese art
Made from natural ceramic for a sophisticated and modern look
Multiple mist settings
Mini humidifier that improves air quality
Mist duration 10 hours
Quiet operation. Sugi works with ultrasonic technology which creates vibrations and therefore, there may be a soothing and gentle water-trickling sound.
Heat-free diffusing means no degradation of essential oils
Worry free! Auto shut-off technology ensures it is safe to use around children or pets
No wax, smoke or mess
Easy to clean and maintain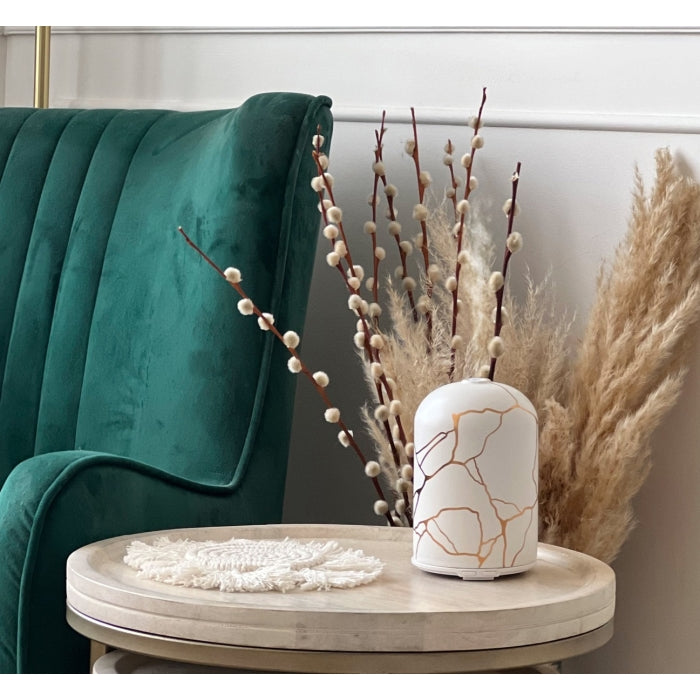 SPECIFICATION
Made from ceramic and gold
Product Size: 94 x 145.5mm
Voltage: DC 24V
Power: 12W
Water Capacity: 100ml
High mist: 4 hours
Low mist: 7 hours
Intermittent mist: 10 hours